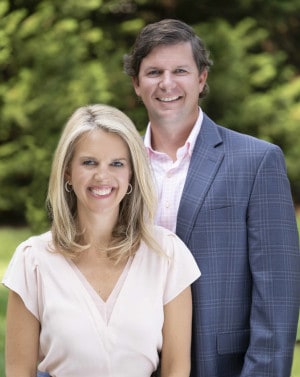 Realtors® / Brokers, NC & SC
abell@cottinghamchalk.com | mbell@cottinghamchalk.com
First and foremost, Anne and McSwain make a great team! We have very different personalities each with our own strengths that we share with every client. We work together on every deal, so our clients essentially get two full-time top producing agents instead of one. Anne's strong marketing background serves our clients very well in selling their home quickly and for the highest possible price and McSwain's long career in the [...]
abell@cottinghamchalk.com | mbell@cottinghamchalk.com
First and foremost, Anne and McSwain make a great team! We have very different personalities each with our own strengths that we share with every client. We work together on every deal, so our clients essentially get two full-time top producing agents instead of one. Anne's strong marketing background serves our clients very well in selling their home quickly and for the highest possible price and McSwain's long career in the construction and development business serves our clients very well on the back end as we work to close deals as quickly and smoothly as possible.
We take our reputation very seriously! Not only do we conduct ourselves with the utmost integrity towards our clients, but we also treat other agents and our friendly competitors the same way. Because of that we have built very strong relationships in the Realtor community and often times sell homes before they are even listed!
We love raising our family in Charlotte and genuinely treat each deal as if we were buying or selling a home for our own family- always looking out for your best interest first and foremost. We look forward to working tirelessly on your behalf as we find your place to call home!
Anne Bell
PERSONAL STATEMENT
A home is often your family's largest and most treasured investment. We look forward to using our years of experience, abundant energy and countless resources to make sure it is the right one for you and your family! We are committed to offering the absolute highest level of customer service and working tirelessly on behalf of our clients to make the process of buying or selling a home as easy as possible.
ACHIEVEMENTS & DESIGNATIONS
Sales Team of the Year 2017-2022
National Association of Realtors®
North Carolina Association of Realtors®
Canopy Realtor® Association
Named in Charlotte Magazine as a Five Star: Best in Client Satisfaction Real Estate Agent
Top Producer since 2009
Voted 2019 REAL Trends America's Best Realtor in North Carolina
PERSONAL INFO
Born in Greenville, South Carolina
Graduated Magna Cum Laude from Washington and Lee University with BA in Journalism and Political Science
Washington and Lee Alumni Board Member
2017 PGA Championship Co-Chair Housing/Accommodations Committee
Member and volunteer at Christ Church Charlotte
Charlotte Country Day School Parent Volunteer
Prior to my career in real estate I worked for a national advertising and public relations firm working on brands like Starbucks and Bojangles
Fun Facts
I love working at Cottingham Chalk because of the family environment they foster among our agents. Some of our closest friends in Charlotte are our co-workers.
I love all the old trees and beautiful neighborhoods – I can't pick just one favorite!
Traveling with McSwain and our children introducing them to new places.
McSwain and I first met in middle school!
McSwain Bell
ACHIEVEMENTS & DESIGNATIONS
Sales Team of the Year 2017-2022
National Association of Realtors®
North Carolina Association of Realtors®
Canopy Realtor® Association
Consistent top producer since 2009
Voted 2019 REAL Trends America's Best Realtor in North Carolina
PERSONAL INFO
Born in Greenville, South Carolina
Graduate of Clemson with a degree in Construction Science and Engineering
Bridge Foundation Scholarships, Board Member
2017 PGA Championship Co-Chairs of the Player Housing/Accommodations Committee
Christ Church Episcopal, Member
Volunteer for annual Realtor's Care Day
Prior to my career in residential real estate I spent over 10 years developing and managing retirement communities throughout the Southeast
Fun Facts
At the end of the day we are a family business and enjoy being part of a family owned company that has successfully operated in Charlotte for more than 35 years!
Lake Toxaway, NC is one of my favorite places to visit.
I love the entrepreneurial spirit of the Charlotte community.
In my free time I like to play golf or watch Clemson football.
My Dad and my Uncle both played football at Clemson for Frank Howard.
Office Location
6846 Carnegie Blvd.
Charlotte, NC 28211
Contact Info
Specifications
Languages:
Specialties:
Service Area:
Anne and McSwain's Testimonials
We have only the highest praise and recommendation for Anne and McSwain. They are the most amazing team. Both of them are true professionals with a wealth of experience and knowledge of the market. We had been looking for a home for over a year when we started working with Anne and McSwain, they quickly found us the dream home we had been looking for. We were continually impressed by their quick responsiveness and their above and beyond help throughout the rest of the process. They made sure [...]
Sarah & Josh O.
The Bell Team was given a glowing recommendation by a friend we trust. We were impressed with their preparation and thoroughness in our initial meeting and knew right away that they would do a great job as our advocate. What seemed most unique to us about working with the Bell Team was how knowledgeable and helpful they were through every step of the process; from pricing and marketing the house, to negotiating with prospective buyers and their agents on the contract and repairs, to the nuances [...]
Lindsay & Brian J.
Anne and McSwain set the bar in the Charlotte real estate market, and we are incredibly grateful for their attention to every detail from the start of our buying and selling process through closing and beyond. Combined with their deep knowledge and understanding of the Charlotte market, their hard work and commitment to their clients' interests gave us a significant advantage in a competitive market. During our experiences working with the Bells, life was busy, and we were comforted by knowing [...]
Ryan & Allison P.
Anne and McSwain were a huge help to us last year. We scoured the Elizabeth and Dilworth neighborhoods for a home in a hot market, and not only did they find us the perfect off-market listing, but they dealt with all of our emotional angst with an even demeanor and rapid-fire responses day and night. Furthermore, we decided to sell our condo in South End at the last minute after we had already started packing for our move. We gave them one weekend to market and sell it at an aggressive price [...]
Austin and Alli Tate
Anne and McSwain are a dynamic duo that make buying/selling a home seem easy. Their expertise, professionalism, and commitment to their clients make working with them a dream. As listing agents they partner with you to fully market your home and walk you through the technical side of selling your home. As buyer's agents they listen to your wants and needs and work tirelessly to find you the perfect house for your family. We completely trust Anne and McSwain to navigate and advise us through [...]
Aaron & Lanny G.
We were given Anne & McSwain's information from several friends that have used them for real estate services over the years. We first met them in the spring of 2016, when my wife and I were looking for our first home in the south Charlotte area. They helped us find and purchase the perfect house, in a hot Beverly Woods market. Not long thereafter, we recently had to sell our house due to a relocation opportunity with my employer - we did not hesitate with contacting the Bell team to help us [...]
Jeremy Roberts, Carrie Roberts
We have worked with The Bell Team multiple times over the past eight years on both the purchase and sale of our homes. Their knowledge of the Charlotte area is unmatched, and it is clear they have a passion for helping people find the perfect home for their lifestyle. They are incredibly well connected with other agents, lenders, builders and craftsman in the Queen City. We highly recommend this caring, motivated and exceptionally effective husband and wife duo!
Katie and Johnson Wagner
It was an absolute pleasure working with The Bell Team. Their vast knowledge of the Charlotte real estate market and full understanding of our wants and needs made our house search seamless. Likewise, the sale of our existing home was very quick in a tough real estate market thanks to their expertise. They are professional in every aspect and we highly recommend The Bell Team for your next home purchase and/or sale." "I was immediately impressed upon meeting the Bell team. Both Anne and McSwain [...]
Katie and Seth Hildebrand
Contact
Hi there! How can we help you?
Contact us using the form below or give us a call.
Hi there! How can we help you?
Contact us using the form below or give us a call.