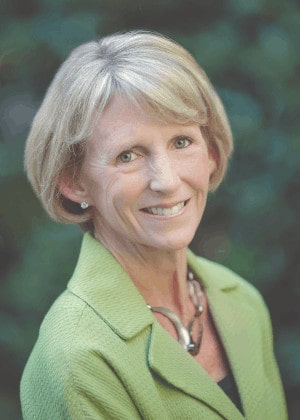 Realtor® / Broker, NC & SC
I love everything about being a Realtor! I am a native Charlottean and have been involved in this business in some form or fashion since I graduated from UNC-Chapel Hill. My first job was as a commercial real estate lender with Bank of America, where I helped finance many of the buildings in Charlotte we see today. After taking a few years off to raise my four children, I delved back into the business on the residential [...]
I love everything about being a Realtor! I am a native Charlottean and have been involved in this business in some form or fashion since I graduated from UNC-Chapel Hill. My first job was as a commercial real estate lender with Bank of America, where I helped finance many of the buildings in Charlotte we see today. After taking a few years off to raise my four children, I delved back into the business on the residential side.
What I love most about selling homes is the personal element. Finance is my background and my strength, but connecting with new people is the most enjoyable part of this business. I enjoy the fact that every day I feel like I am able to help my clients work through a transition. Whether it is a first time home buyer, someone moving into their dream home, or someone moving across the country, I love helping them make the process easier and less stressful.
My passion for helping others extends into the community where I am involved in Westminster Presbyterian Church, Habitat for Humanity, Women of Vision, the Junior League and as a HEART math tutor in the public schools. I believe that there is no better place to live than Charlotte, where the people in this community care about making our city and the world a better place.
I look forward to each and every new opportunity and love bringing my energy, problem solving skills, and creativity to the world of residential real estate. I am blessed to love the work that I do every day!
PERSONAL STATEMENT
Having grown up in Charlotte, I have an intimate knowledge of both the wonderful older neighborhoods of the center city as well the vibrant areas evolving beyond those bounds. I am committed to serving my clients with excellence, passion, and enthusiasm and to making the process smooth and enjoyable. Check out this article that I was recently featured in!
ACHIEVEMENTS & DESIGNATIONS
National Association of Realtors®
North Carolina Association of Realtors®
Canopy Realtor® Association
South Carolina Association of Realtors®
Seniors Real Estate Specialist® (SRES)
Seller Representative Specialist (SRS) Designation
2013 Rookie of the Year for CCH
Cottingham Chalk Top Producer
Certified Relocation Specialist
Certified Military Specialist
PERSONAL INFO
Westminster Presbyterian Church, Elder, Retreat Coordinator, Missions Committee
HEART Tutor since 2009 – Allenbrook, Winterfield and Billingsville Elementary
Women of Vision
Past President Myers Park High PTSA, AG PTA and Selwyn PTA
Junior League of Charlotte – Sustainer Board of Directors
Habitat for Humanity Volunteer
Enjoy running, tennis, yoga and swimming
Fun Facts
I love the fact that the guiding principle of our firm is to treat others as we would want to be treated. This is evidenced in all that we do as a company.
I love Charlotte dearly. I have lived here since I was seven years old, with the exception of a couple of stints in Chapel Hill. The energy in this city is amazing – we have exciting sports teams to follow in the Panthers, Hornets and Charlotte Knights. We have great parks and green ways, innovative businesses, fabulous restaurants. We have leaders that care about positive growth, rich culture and upward mobility.
My family loves to vacation at Kiawah Island near Charleston – an easy drive from Charlotte and uniquely natural and beautiful.
My favorite pastimes are pretty much anything I can do outdoors, including running, tennis, biking and swimming. That is what makes me the happiest!
I have run six marathons, my last one being the Boston Marathon – a bucket list item!
Office Location
6846 Carnegie Blvd.
Charlotte, NC 28211
Contact Info
Specifications
Languages:
Specialties:
Service Area:
Lisa's Testimonials
When we first arrived to Charlotte a little over 2 years ago, we chose Lisa to help us find a rental property so we could "test the waters" in Charlotte. We rented for a year in a Mountain Island neighborhood and when we were ready to buy we called Lisa back up to help us find our final retirement destination in Mountain Island. She was very attentive to our needs and handled "numerous" last minute details to ensure the closing would take place when we needed it to. Lisa has continued to [...]
Alison & George Zorrilla
Working with Lisa was a pleasure! I was buying my first home and she made the experience stress free and enjoyable. With her extreme knowledge of the city, paired with her experience, I knew I was in good hands. She helped me find exactly what I was looking for and I am incredibly pleased. Without a doubt, when I begin my search for my next home, I will be using Lisa. I would, and do, recommend her whenever I can!
Austin Grandstaff
Words cannot begin to describe what a blessing Lisa was to our family throughout the purchase of our first home. She is incredibly skilled in her craft and knowledgeable about the Charlotte market, yet she is never pushy and only gives her advice when solicited. She was extremely patient with us throughout the process and she was an excellent advocate on our behalf when it came time to negotiate. We have recommended her to multiple friends and the consensus is the same: Lisa is wonderful!
The Bowabs
Lisa is everything you would want in a realtor and more. As a first-time home buyer, she answered all of my thousands of questions along the way and put together lists of possible homes time and time again, while I was trying to determine what i really wanted in a home. She also has extensive experience, connections and resources that she is always willing to share to make the various sub-processes that go on, while buying a home, to make them so much easier. 5-star recommendation for Lisa!
Kevin Smeaton
Absolutely awesome describes realtor Lisa Warren!! Lisa sold our Charlotte home in May 2019. Lisa went above and beyond in every way during the sale and closing process. Her subcontractors were easy to work with, timely, and their work was excellent. Lisa's sense of humor and calming ways make her a delight to work with. Her advice, attention to detail, experience, and professional manner make Lisa Warren a Top Choice Cottingham Chalk realtor!!
Joy and George Stuart
When we planned to move to Charlotte in 2017, Lisa Warren was recommended to us by a friend. She described Lisa as "the energizer bunny", and we found that to be very true! She helped us buy a wonderful house in a great neighborhood, and took the stress out of the process. When family matters made it necessary for us to move back to Texas in 2019, we contacted Lisa. She walked through the house with us and made suggestions on what we might do to present the house in the best light. She [...]
David and Anne G
Not only is Lisa professional, capable, and responsive, she always makes my international clients feel at ease with her warm smile and genuine caring spirit. Her superb custom service and her willingness to help are two vital traits of a successful real estate professional.
Working with Lisa has been an absolute treat! We have now purchased 1 and sold 2 houses with Lisa. The process for each has not only been seamless but enjoyable. Lisa communicates quickly and efficiently. She has a calm demeanor and can speak eloquently about what makes your home special. Lisa helped to guide us through some tough markets, houses selling over listing same day and the recent mortgage rate spike. In each situation, Lisa helped to keep us calm and level headed throughout [...]
Adam and Nikki Kennell
Lisa was a delight to work with and I am so thankful she called me when this house went on the market. She helped us get a backup offer in and was an excellent professional throughout the process. CCH is fortunate to have an agent like Lisa!
It was a pleasure working with Lisa. I appreciated her diligence in helping me find a home, her quick response to questions, and all of her recommendations.
Chris Nielsen
Contact
Hi there! How can we help you?
Contact us using the form below or give us a call.
Hi there! How can we help you?
Contact us using the form below or give us a call.