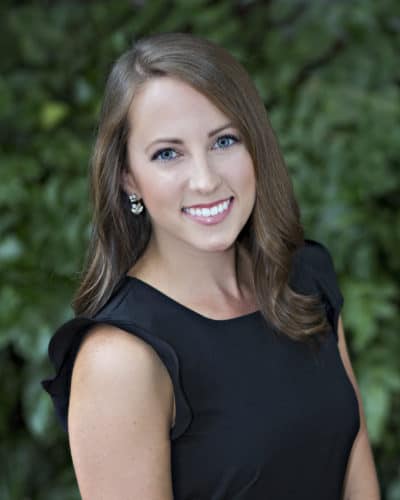 Realtor® / Broker, NC & SC
Originally from just outside of Winston-Salem, NC, I moved to Charlotte after graduating from Appalachian State University. After planting roots in a new city, I launched myself into a career where I worked with several Fortune 500 companies fulfilling all of their digital advertising needs. However, my interest and passion for real estate continued to pull me in a different direction and led me to Cottingham [...]
Originally from just outside of Winston-Salem, NC, I moved to Charlotte after graduating from Appalachian State University. After planting roots in a new city, I launched myself into a career where I worked with several Fortune 500 companies fulfilling all of their digital advertising needs. However, my interest and passion for real estate continued to pull me in a different direction and led me to Cottingham Chalk.
Having gone through the home buying process with my husband, I have come to know the ins and outs of the Charlotte real estate market. I pride myself on working hard, keeping up with the ever changing market trends, putting my clients first, and displaying a strong attention to detail.
In addition to serving your local real estate needs, I am able to provide you with the very best real estate services anywhere in the world. Through Cottingham Chalk's affiliation with the invitation-only Leading Real Estate Companies of the World network, I have access to agents and marketing resources around the globe. I'm local. I'm global.
I entered the business not to just sell homes, but to navigate my clients as a trusted adviser through the adventure of buying or selling. The process is both stressful and exciting, but I come alongside every client as a dependable teammate to ensure a seamless transaction.
Office Location
6846 Carnegie Blvd.
Charlotte, NC 28211
Contact Info
Specifications
Languages:
Specialties:
Service Area:
Kristen's Testimonials
As first-time sellers, we could not have asked for a more compassionate, dedicated resource or empathetic, reassuring friend through the process than Kristen! She was patient with our neverending questions, attentive to every detail, clear and brilliant in negotiations, and (most importantly) a genuine joy to work with. PLUS she had our house under contract within 1 week of signing with her! We didn't even have to have it photographed - one off-market walkthrough turned accepted offer - she [...]
Emily B
Kristen was amazing from start to finish during our first home buying process! We cannot have asked for a better experience, from locating the home all the way through to closing. Professional, available, and knowledgeable about every facet of the real estate market. We simply can't say enough great things about Kristen and we highly recommend her! It's clear she will be in top performer for many years to come, and we are honored to be one of her clients!
Davis & Michalia Fisher
Lindsay and I had a wonderful experience working with Kristen. We are new to the area, and she was incredibly helpful, patient, and attentive throughout the entire process. With this being our first time buying a home, we had so many questions (plenty that were asked more than once), and Kristen made sure we fully understood every part of the process. We love our new home, and we would certainly recommend Kristen to anyone in the Charlotte area looking to purchase a home!
Tanner Greaves and Lindsay Cash
I cannot stress how thankful we are that we were referred to Kristen in searching for our Charlotte home. My husband and I relocated to Charlotte from Texas, which comes with unique challenges. We are also first time home buyers. On top of that, as buyers in a crazy low inventory sellers' market, it is a competitive and difficult time to buy a home in general. Kristen helped up navigate all of these things flawlessly from 1,000 miles away. From beginning to end, I don't think we could have done [...]
Hilary Fankhauser
Kristen was amazing! We couldn't have asked for a better realtor for our first home buying experience. She was incredibly responsive, thorough and most importantly, patient with all our questions. As out of towners moving to Charlotte, Kristen provided great backgrounds on each neighborhood and lots of recommendations for when we were in town. With us being out of state, Kirsten promptly accommodated tours and we knew we could trust her to FaceTime a house for us and share her honest feedback. [...]
Mary & Derrick
Kristen was amazing to work with! After a long house hunt in a challenging market, she helped us every step of the way through closing on our first home purchase! She answered countless questions and was always available at all hours; Kristen was the best person to have on our side! We are so thankful for all her guidance and expertise!
Tyler Nutter
Kristen is attentive, sharp and efficient...everything we need in a realtor. We truly appreciate that she isn't scared to have hard conversations on our behalf and at every point in the process we know she is fully "for us." Thankful she is a go getter and doesn't have an ounce of laziness in her. Safe to say we'd use her again...she's already on her third house for us!
Julie Fox
Working with Kristen was an absolute delight. She is quick to respond, always looking out for her clients, and goes above and beyond to guide you through the house buying process. Being a first time home buyer, she was very patient with our many questions and very happy to help explain each step along the way. She is not only very professional, but also very personable making the experience feel like you are working with a friend. I would recommend her to anyone and will be using her again [...]
Andrew and Kerstin Robson
Kristen was such a pleasure to have on my side throughout this process. She was incredibly patient while I waited for the right place to come along and always made herself available for last minute showings. Once I found the perfect home, she was extremely proactive and always kept me informed about next steps, which was much appreciated for a first-time homebuyer like myself! I'd highly recommend Kristen to anyone looking for a realtor in the Charlotte area.
Elena Covert
Kristen was highly recommended to me by a friend and it was obvious why! She takes the normally stressful process of buying/selling houses and makes the it very easy and actually fun. She is trustworthy, bubbly, energetic, highly motivated, knowledgeable and passionate about real estate and people. Her negotiation skills were top notch when it came to repairs and she has her clients best interests at heart. I used the lender she recommended who gave me a highly competitive rate and was also a [...]
Conner Andrews
Contact
Hi there! How can we help you?
Contact us using the form below or give us a call.
Hi there! How can we help you?
Contact us using the form below or give us a call.