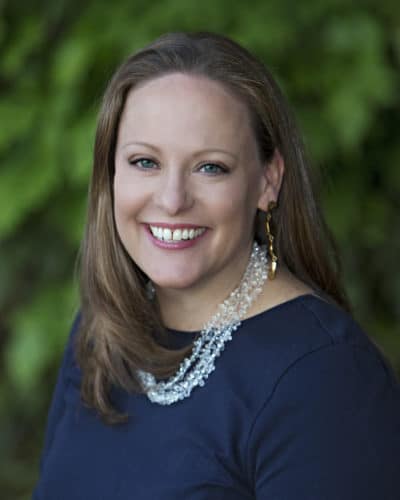 Realtor® / Broker, NC & SC
I love Charlotte, have lived here since 2003 and am thrilled to see the growth and vibrancy of our city. When I'm not out with clients I love to explore new restaurants, neighborhoods and cultural events. It's important to me to stay current and on-trend, and I have a great group of friends in different parts of town and in different stages of their lives who help me stay in tune with what's [...]
I love Charlotte, have lived here since 2003 and am thrilled to see the growth and vibrancy of our city. When I'm not out with clients I love to explore new restaurants, neighborhoods and cultural events. It's important to me to stay current and on-trend, and I have a great group of friends in different parts of town and in different stages of their lives who help me stay in tune with what's important.
I'm obsessive about efficiency and saving time for my clients. As a working mother of two boys I know how difficult it is to carve out a few extra minutes from a very busy schedule. To me a great realtor is someone who goes the extra mile to make life easier for their clients – whether that means scheduling a repair, helping with some last-minute gardening before a photo shoot or being there and listening when you need it. It's more than customer service, it's building a relationship for years to come.
Over the years I've become involved with a number of organizations that focus on the health of our community here in Charlotte and around the globe. I'm thankful to be a part of Dining for Women, to volunteer at Christ Church and with Fashion and Compassion, and to be a member of Women's Impact Fund. My family and I love to entertain, spend time with our friends and meet new people!
PERSONAL STATEMENT
I've moved many times locally and abroad and I appreciate both the excitement and stress that come when real estate is changing hands. I have a strong drive for results and a goal of exceeding expectations and will make sure all aspects of your transactions are covered. My goal is to make buying and selling a home as efficient as possible streamlining the process with respect for my clients' time and communication preferences.
ACHIEVEMENTS & DESIGNATIONS
2019, 2020, 2021 & 2022 Top Producer
2019 Rookie of the Year
National Association of Realtors®
North Carolina Association of Realtors®
Canopy Realtor® Association
A Charlotte Observer's 2018 Real Estate Rising Star
A Charlotte Observer's 2018 Real Estate Rising Star
Certified Military Specialist
Leading RE Target Marketing Specialist
PERSONAL INFO
Lean Six Sigma Black Belt
Superior School of Real Estate graduate
Moved to Charlotte in 2003
20 years of logistics experience, executive level
Married with 2 sons
Michigan State University, BA in International Relations and French
Lived abroad in Mexico, France, England and Denmark
Fluent in Spanish and French, some Danish
Member and volunteer, Christ Episcopal Church
Volunteer, Providence High School PTSO
Board Member, Fashion & Compassion
Dining for Women chapter member
Women's Impact Fund Member
Enjoy entertaining and community events with friends and family, decorating and spending time in my craft room
Fun Facts
I like being part of the Cottingham Chalk team because we do things the right way every time.
Charlotte is a very welcoming, warm and friendly city. I love living here!
My favorite vacation spot is Charleston, SC.
During my some of my free time you can find me shopping for great home decorating treasures.
Office Location
6846 Carnegie Blvd.
Charlotte, NC 28211
Contact Info
Specifications
Languages:
Specialties:
Service Area:
Kalie's Testimonials
Kalie has an unparalleled work ethic and is detail oriented. She found our new home for us, walked us through the purchase process, worked to remediate inspection concerns, and was with us to hold our hand during the closing. She was in constant contact and provided full transparency every step of the way. Our move was nerve wracking but Kalie was a confidant and a steady force. Kalie also has great resources. We couldn't be happier with the handyman and mortgage company she found us.
Anita V
Kalie is awesome! She was super helpful to me throughout the process. Kalie understood my needs well and notified me of the property I bought the day it was listed and helped me set an appropriate price. She was able to source additional information about the listing that helped me make an informed decision. Kalie went above and beyond my expectations, and I would highly recommend working with her.
Will Reid
Thank you for helping me through the process of buying my first house. Right from explaining the whole process to me, understanding my preferences, helping me find my home, connecting me with exceptional people, all the way to closing the deal, I felt you looked out for my best interest and went above and beyond, and I am grateful to you for that! You're a highly perceptive and intuitive person, thank you for using your superpowers and helping people like you do!
Shirin B
"We initially met Kalie at an open house. She was so personable, friendly and professional that we chose her as our buyer's agent, and have not regretted it for an instant. Kalie has been one of the most reliable, responsive and helpful real estate professionals we have ever had the pleasure of working with. We negotiated and purchased our Charlotte property from another state, which in itself can be a very stressful proposition, but with Kalie's help the process went smoothly. Her patience and [...]
David B.
Kalie is an awesome agent, she helped us to sell our house and the whole process was so smooth. She gave us the best strategies and advice to move thing forward. We were so lucky to have her.
Qing Wang
My wife and I recently relocated to the Charlotte area with our 5 year old son and another on the way. Attempting to locate a neighborhood in an unfamiliar city was a daunting task. Fortunately for us, we met Kalie! Kalie helped us narrow down our search by focusing on the items that were most important to us, namely schools, commute, and easy access to restaurants/night life. She spent countless hours taking us around to various neighborhoods that "checked all the boxes." And when we finally [...]
T. Schrafft
My husband and I just purchased our first home together and we were SO happy that Kalie came into the picture early on. The process went so smoothly, and lucky for me she has the same organized brain that I do. She kept us up to date with everything we needed to do including action items to stay on task and also things we would want to consider before moving in. We are so happy to have her as a resource!
Kyla W.
We had the immense pleasure of working with Kalie on our relocation from Colorado to the Charlotte area. Our search parameters were a bit off the beaten path and we were looking for a home that was special. Kalie was responsive and engaged from the very start and never failed to return calls, answer questions or provide prompt and professional advice. She also drove much farther into the outer edges of our search area — promptly and without complaint — than any other agent we've used. And Kalie [...]
A. Veyera
My husband and I relocated to Charlotte and recently had the pleasure of working with Kalie Koivisto when looking for our home. From day 1, kalie was extremely responsive and had great suggestions for homes to view based on what we were looking for. All throughout the negotiations and closing kalie was there quickly handling any issues that may have risen. If the time ever comes when we will be looking for a new home, there isn't any question on who our Realtor will be!
Diana Barrios
Kalie was an absolute joy to work with in selling our home. Friendly, personable, knowledgeable, professional, organized and about every other positive adjective you can think of. She helped with the staging of our home for the photos, planted flowers at our back door and also brought a pot of flowers for the front door. She is extremely caring and will treat you like family. Throughout the entire process we felt as though we were working with someone we had known for years What more could [...]
Betty and Don Pingley
Contact
Hi there! How can we help you?
Contact us using the form below or give us a call.
Hi there! How can we help you?
Contact us using the form below or give us a call.