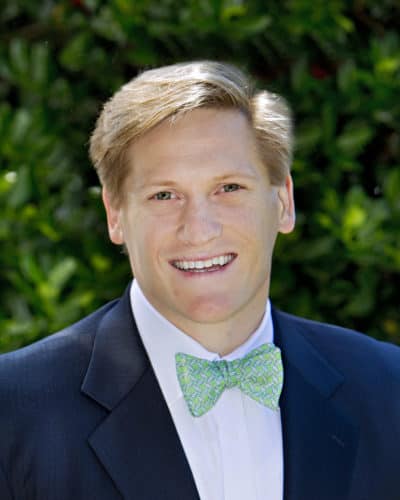 Realtor® / Broker, NC & SC
I was born and raised in Charlotte, NC. Having lived here my whole life (except for a fantastic 4-year stint in Boone, NC, at Appalachian State University), I have seen this city change in amazing ways. I'm proud to call Charlotte home and love promoting the great neighborhoods in and around the [...]
I was born and raised in Charlotte, NC. Having lived here my whole life (except for a fantastic 4-year stint in Boone, NC, at Appalachian State University), I have seen this city change in amazing ways. I'm proud to call Charlotte home and love promoting the great neighborhoods in and around the city.
After college I worked on the investment bank side at Bank of America, in their Real Estate, Gaming and Lodging Loan Syndications group. This experience combined with my local area knowledge gives me a unique skill set when it comes to assisting my clients to buy and sell.
With unwavering support, I offer my clients a more analytical look at valuing a property along with additional knowledge on our growing neighborhoods in the Queen City. My passion for working within the real estate industry is shown through the availability I offer my clients around the clock.
When I'm not working, I find myself enjoying time with my three kids, running, swimming, playing golf, snowboarding and traveling. Once the fall air arrives, I love cheering on my Mountaineers. I'm an active member of Myers Park United Methodist Church, various groups supporting Appalachian State University and F3 ("Muggsy").
PERSONAL STATEMENT
As a native Charlottean, I hope you will allow me to assist you with your housing needs and show you why I'm so passionate about this great city.
ACHIEVEMENTS & DESIGNATIONS
National Association of Realtors®
North Carolina Association of Realtors®
Canopy Realtor® Association
Rookie of the Year, 2010
CRRA Leadership Academy Graduate, 2014
Five Star Real Estate Agent Award, 2014-2023
CC Top Producer, 2013-2022
PERSONAL INFO
Three kids (2 daughters and 1 son)
BSBA double major in Marketing and Management from Appalachian State University
Active member of Myers Park United Methodist Church
Former Alumni Council member at Appalachian State University
Enjoy running, swimming, snowboarding, basketball, soccer and photography
Active F3 participant (Muggsy)
Fun Facts
Working at Cottingham Chalk is great because of the family atmosphere combined with the expertise and experience among the agents. Charlotte is great because of its big city amenities with small town friendliness. The proximity to the mountains and the sea is great too. Favorite vacation spots include: Aspen, CO for skiing; Boone, NC for a quick trip; The Grove Park Inn, in Asheville, NC for a relaxing splurge.
In my free time I like to do anything being active or with my family.
I once shagged (danced) with Diane Sawyer!
Office Location
6846 Carnegie Blvd.
Charlotte, NC 28211
Contact Info
Specifications
Languages:
Specialties:
Service Area:
Chip's Testimonials
Chip recently helped me purchase my house in Mountainbrook and I couldn't have asked for a better real estate agent. I've had to deal with several real estate agents in the past few years and Chip, by far, is the best. Throughout the entire process, Chip was always very honest, responsive, and insightful. I was living in Virginia during my house search and were only able to be in Charlotte a couple of times but Chip always made time. Ultimately, if it weren't for Chip, I wouldn't have [...]
Vincent Soetanto
Chip is an absolute joy to work with. He has always been so professional & responsive to real estate questions that may arise. He pays attention to every detail, to make sure each & every transaction goes smoothly. I would highly recommend him!
G. Payton
We've worked with Chip twice now; both selling a home due to a job relocation out of state and then buying a home long distance when relocating back to Charlotte. The process both times could not have been any easier with Chip and his team. When selling our former home, Chip made great recommendations prior to listing and prepared a solid marketing plan to present our property. His strategy, market knowledge, and confidence gave us comfort and made for a quick seamless sale above ask. [...]
Eddie Paffendorf
I have worked with Chip for the purchase of two homes. Chip has been a great resource to navigate the home buying purchase and ensure that everything is done properly and promptly. His knowledge of the local market trends is invaluable when working on a home purchase. He exhibits a very calm demeanor which is great to work with as a buyer because buying can be a stressful personal decision and it is nice to work with someone that keeps their wits about them. Thanks Chip!
Tommy G.
I've known Chip for 20+ years! Beyond being a great friend he has been an amazing asset for us in our search for a home and the sale of our previous one. He has a great sense for the market and was extremely instrumental in helping us lock down our forever home in Woodbridge! I wouldn't recommend anyone else! He has even gone the extra mile and helped a number of our neighbors and friends as well in their search for homes. Keep up the great work you do in such a kind and caring way Chip! [...]
Katie Griffith
My experience working to sell my home of 34 years with Chip's assistance was excellent. I already knew that Cottingham Chalk was active in neighborhoods similar to mine that included older homes in established, fairly affluent neighborhoods. My 62-year-old home was being sold "as is", and Chip was very realistic about how it should be presented. No need for staging or cosmetic repairs to an interior that might be gutted by new buyers. On the other hand, the mid-century modern home had [...]
Gwynne Movius
Chip was outstanding! I was selling a house I had planned to renovate and didn't have the resources to successfully complete. Chip provided timely and detailed comparisons of the surrounding area and discussed all of my different options while I was in my decision making process. When I decided to sell I obviously used Chip. He made the whole process SO simple - I rarely thought about the house, which was such a nice change from the previous stress! I will be using Chip for any and all future [...]
Amelia H
Contact
Hi there! How can we help you?
Contact us using the form below or give us a call.
Hi there! How can we help you?
Contact us using the form below or give us a call.