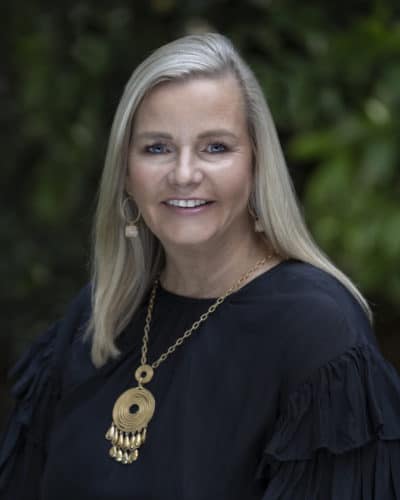 Realtor® / Broker, NC & SC
Becky grew up in Chapel Hill, North Carolina, and graduated from Guilford College in Greensboro with a B.A. in Political Science. After graduation, Becky and her boyfriend, Scott, whom she married a few years later, fell in love with Charlotte while visiting a relative and decided to make it their home. Becky earned a teaching certificate at Queens College and spent the next five years teaching in the Charlotte Mecklenburg School system. Throughout this time, she and Scott purchased and [...]
Becky grew up in Chapel Hill, North Carolina, and graduated from Guilford College in Greensboro with a B.A. in Political Science. After graduation, Becky and her boyfriend, Scott, whom she married a few years later, fell in love with Charlotte while visiting a relative and decided to make it their home. Becky earned a teaching certificate at Queens College and spent the next five years teaching in the Charlotte Mecklenburg School system. Throughout this time, she and Scott purchased and renovated several homes and in 1997, she decided to turn her passion into a career. Becky dove head first into the world of residential real estate and was honored with the Rookie of the Year Award in her first year and been a consistent top producer ever since.
She knows that buying and selling can be stressful and her clients appreciate her expertise because she has helped navigate hundreds of buyers and sellers through the process over the past 20 years. She feels very lucky to have found something she loves to do and truly believes in the old saying, 'If you find something you love to do then you'll never work a day in your life.'
Becky and Scott, live in the SouthPark area in Barclay Downs with their three children (ranging from 13 to 23years old) and rescue dog, Lilly. She is active in the community and serves as a volunteer for Barclay Downs HOA and several organizations for her kid's activities. Becky has also volunteered her time to several PTA boards over the years and enjoys playing tennis, running, writing and using her creativity with interior design.
PERSONAL STATEMENT
My parents taught me that you work hard and treat others the way you would like to be treated. I approach all my work with that guiding principal.
ACHIEVEMENTS & DESIGNATIONS
Top Producer 1998-2021
Over 250+ million in career sales
Licensed in North & South Carolina
Cottingham Chalk Rookie of the Year, 1997
Certified Military Specialist
PERSONAL INFO
Guilford College - B.A. in Political Science
Teaching Certificate - Queens College
Barclay Downs HOA; Past President and Vice President
South Park Coalition of Neighborhoods
Past Volunteer A.G. Middle & Myers Park HS
Fun Facts
Cottingham Chalk has the smartest, most professional agents in Charlotte and being part of that group is an honor. It is a place where agents help each other on a daily basis to give our clients the very best in customer service. In this competitive marketplace, there is nothing better than having a group of agents helping you find the best houses out there for your clients before they even hit the market and willing to work together to get your listings get the most exposure in the market place.
I remember seeing the Charlotte skyline at night for the first time when I was in college and knew that I had to move here as soon as I graduated. I have loved it ever since! Charlotte is always looking forward! I love all the things to do, the amazing food, shopping, outdoor spaces, sporting events and of course the beautiful houses!
I love my little lake place that my sisters and I inherited from our parents that I have gone to since I was a child and my own children and nieces and nephews have grown up going to. We spend our holidays with the kids boating, having ping pong and corn hole competitions, swimming, playing board games and spending lazy days on the dock.
I love to spend time with friends and family and that often involves watching my kids sporting events which over the years has included soccer, rowing and now baseball. I love playing tennis, I run a 1/2 marathon every year with my running group (we are on year 12), and go to flywheel and yoga a few times a week.
Office Location
6846 Carnegie Blvd.
Charlotte, NC 28211
Contact Info
Specifications
Languages:
Specialties:
Service Area:
Becky's Testimonials
Becky exceeded our expectations and made our first-time home buying experience exciting and enjoyable. You can choose many different realtors in Charlotte, but if you are looking for someone who listens, is hardworking, advocates for you as the Buyer, knows the neighborhoods of Charlotte, and remains extremely unruffled in the process, you want to hire Becky. We will use Becky again in the future and I would highly recommend herto my friends and to my family!
Ashley F.
We worked with Becky to buy and sell our houses just last year. We had lived in the house we were selling for 20 plus years, so the decision to move became more emotional than we expected. Becky provided an exceptional balance of professional guidance and thoughtful support, recognizing that the sale was not just a transaction for us. The great news is that she found our dream house. Her industry knowledge and attention to the details of the process made what could have been a nightmare for [...]
Jennifer B.
In 5 years Becky has helped me sell – 2 rental properties and 2 primary residences. The rentals were previously listed with another realtor and did not sell at the time, one had multiple offers and when the first fell through Becky had a backup ready to go at full asking price. One of the primaries was a townhome – thought I was ready to downsize as an empty nester, turns out I wasn't and Becky helped me buy and sell that one within 6 months. She has also helped me purchase 3 homes – one [...]
Kimberly P.
I would, without hesitation, recommend Becky to any prospective home buyer, especially if he or she is new to Charlotte and/or the home buying process!
Chris & Jennifer C.
We have worked with various Realtors in the past, but none have been as trustworthy, honest, or dedicated as Becky.
Dan & Kim L.
Becky was superb! Very knowledgeable, thoughtful, responsive, and patient. She is clearly well-respected within the Charlotte market and used her connections to find us our perfect house in Myers Park (before it hit MLS...and we were the first to see the property). She also represented us on the sale of our prior house (also in MP) and that process went as smoothly as we could've wanted. With Becky's guidance, our prior home sold in 1 week at a price with which we were very happy. We would [...]
Matt O
Having known Becky outside of work for many years, we chose her to represent us in both the sale of our house and the purchase of our new home. That was a great decision as she was diligent, trustworthy and honest. Due to the time sensitive nature of real estate, she was always available to us in person or by phone. Her knowledge and wisdom of the Charlotte market guided us through all the challenges we confronted. She has earned our highest recommendation.
Sandra and Ron Boozer
Recently had two home transactions using Becky McGrath. They were quick - went smooth and closed with no issues. Becky was wonderful , professional, knowledgeable, responsive to questions and needs, but most of all very kind. She is a jewel to the industry and recommend her to anyone thinking of buying or selling. Thank-you for making my dream come true!
Nancy L.
Becky went above and beyond for me. She was not only an invaluable resource through a long and difficult sale but I have never known a realtor to stage with her own furniture and take my dog out. Becky is caring, honest, sincere and dedicated. It's not just about the commission for her. Even though the sale/purchase is complete I can still reach out and she's here for me. I would recommend her to anyone.
Ginna B.
I have worked with many real estate agents, but Becky McGrath was the best - hands down. She listened very closely to what we wanted and needed. She offered impartial advice and helped us with through the pros and cons of each house we looked at. She was diligent, pro- tective, and always had our interests at the top of her list. She went to bat for us when it was needed. As we were working from out of state, communication was impera- tive. She was always available. Always. I give her the [...]
Kenneth H.
Contact
Hi there! How can we help you?
Contact us using the form below or give us a call.
Hi there! How can we help you?
Contact us using the form below or give us a call.